Most of us are familiar with the term "shin splints," which refers to an achy, tender or sore feeling along the front of your leg that develops as you exercise. But the next time you jump to self-diagnose the pesky but non-emergent condition, it may pay off to take a closer look at your symptoms.
Shin splints can be confused with chronic compartment syndrome, also known as exertional compartment syndrome. Like shin splints, compartment syndrome is exercise-induced, but it differs by causing pain deep in muscles that can routinely prevent you from participating in a chosen sport or activity.
What is compartment syndrome?
The American Academy of Orthopedic Surgeons describes compartment syndrome as causing swelling or bleeding within a compartment in the body. The AAOS notes that because our connective tissue, known as fascia, doesn't stretch, the condition increases pressure on capillaries, nerves and muscles in the compartment. While compartment syndrome most commonly affects the lower leg, it can also affect the thighs, arms, hands, feet and buttocks.
If you're suffering from compartment syndrome, you may experience:
An aching, burning or cramping pain
Tightness in the affected area
Numbness or tingling sensation
Visible muscle bulging as a result of a muscle hernia
Difficulty moving or raising the foot on an affected leg
Additionally, pain and issues caused by compartment syndrome might follow a pattern, such as starting after a specific time, distance or intensity of your workout, progressively worsening as you exercise, and lessening or stopping completely once your workout ends.
You have a higher risk of developing compartment syndrome if you're under 30 years old, overtrain your workout frequency or intensity, and participate in a sport involving repetitive impact.
"People who participate in activities such as running or marching are more likely to develop compartment syndrome," says Dr. Thurman Alvey, sports medicine specialist at Forté Sports Medicine and Orthopedics.
Taking the lead in better understanding compartment syndrome
While the cause of compartment syndrome isn't fully understood, Alvey is designing a research project to better understand why physicians appear to be treating more cases today than they did 10 years ago.
"It would seem that overtraining, poor flexibility, gait mechanics and growth cycles all play a role," says Alvey. "Ultimately, none of those issues create tight fascia, but they definitely contribute."
Examination and treatment
To diagnose compartment syndrome most accurately, Alvey uses a comprehensive testing process designed to reproduce the symptoms and when and how they happen.
"Most occur when running, so we utilize a treadmill-based test," says Alvey. "If it is from biking, then a similar protocol is used with a stationary bike. Testing is taken into consideration on an individual basis."
With a diagnosis, Alvey can implement a treatment plan to resolve pain, but typically surgery is the answer to release the compartments.
The team at Forté is standing by to provide an exam and a customized treatment plan so you can start feeling better, faster. Request an appointment online or call 317.817.1200.
When a 16-year-old football player with two months of worsening back pain showed up in Dr. Thurman Alvey's exam room, the sports medicine specialist asked about his current symptoms and medical history and knew just how to proceed.
"A year prior, this athlete had been treated by another provider for a right-sided stress fracture," says Alvey. "Now this teenager had pain on his left side. Knowing his history with stress fractures, we ordered an MRI and blood testing."
Unsurprisingly, the MRI showed a new stress fracture on the patient's left side, and his bloodwork came back as suspected for someone with his medical history.
"He had insufficient vitamin D," says Alvey.
Today, approximately one billion people of all ages and backgrounds worldwide are vitamin D deficient. The fat-soluble compound, which works alongside calcium to keep bones strong and help them heal, is a tell-tale sign of bone health. Additionally, vitamin D helps fight certain diseases, relieve anxiety and depression, and promote good sleep.
To experience the full health benefits it provides, the National Academy of Medicine recommends that a person's vitamin D levels be between 30 to 100 nanograms per milliliter. Levels ranging from 20 to 30 are considered insufficient, and anything under 20 is deemed deficient.
"The athlete was at 28, which is technically in the insufficient range, but I tell everyone that the standard range doesn't work for athletes," says Alvey. "It's been shown time and time again that bone will not heal unless we have a vitamin D level between 40 and 60."
To treat the stress fracture, Alvey put the patient in a rigid brace and prescribed a course of vitamin D supplements. Dosage was based on the teenager's size, weight and current vitamin D levels.
"I want patients to be pain-free before we start moving again," says Alvey. "He started physical therapy after two weeks of rest, and in eight weeks, he was back at football practice wearing the brace."
Alvey stresses athletes and non-athletes alike can benefit from boosting their vitamin D levels. While a person's body naturally absorbs vitamin D from sunlight, it's not always enough. Supplements and a diet including vitamin D-rich foods, such as fatty fish and fortified dairy products, can help.
Signs and symptoms of vitamin D deficiency can range from simple aches and pains to severe bone and muscle pain or weakness. In a worst-case scenario, a patient can develop a bilateral fracture known as spondylolisthesis, which comes with a lifetime risk of low back pain and may eventually require surgical spinal fusion.
"If we can prevent even one spinal fusion, I feel like we've done our job," says Alvey.
In the case of the high school football player, follow-up scans were positive and included evidence of new healing.
"It's the outcome we like to have," says Alvey. "He still looked good at his annual check-up and went on to play in college."
These recommendations have been excerpted from Coaches Corner, a free monthly webinar series for coaches, athletic directors and athletic trainers. The series, developed and presented by Forté, in partnership with IHSAA, aims to arm coaching and support teams with helpful information to consider when working with their athletes. Subscribe online so you don't miss an episode.
One hundred years ago, someone on a mission to improve their health might have strolled into their local drugstore and purchased a pack of cigarettes. Yes, you read that right – cigarettes. At the time, cigarettes were considered health aids and commonly came with collectible trading cards, sometimes featuring health guidelines and fitness tips, such as stretches you could do in your own home.
While now it's clear the industry was wrong about the health benefits of cigarettes, these companies were right about one thing – the benefits of stretching. Active stretching is a great way to prevent and manage and manage back pain, one of the most prevalent health issues in the United States.
It's estimated 80% of adults will develop back pain in their lifetime. According to the Mayo Clinic, it's the third leading cause of doctor visits. To keep you out of a physician's office, Dr. Thurman Alvey, sports medicine specialist at Forté, recommends active stretching to relieve tightness and improve posture, two common contributors to back pain.
"We spend long periods of time hunched over computer screens," says Alvey. "Computers are part of how we communicate, but we have to counter their effects on our posture by actively moving more and getting ourselves to sit up straighter."
Crouching over can also lead to tight hamstrings, another common cause of back pain.
"When you have bad posture, the pelvis tilts, and the hamstrings get tight," says Alvey. "Even in sports, we often train pushing forward, powering forward. As a society, we don't spend much time opening the front side of the body and strengthening our back and core."
Stretching, whether through a few simple exercises or consistent yoga practice, can reduce tension and lengthen muscles, benefiting people of all ages and activity levels.
"More sports teams are incorporating yoga at the collegiate and professional levels," says Alvey, who emphasizes that when it comes to yoga, there's no one-size fits all. Alvey says yoga can be the focus of an active recovery day or included in an existing warm-up or cooldown routine.
"It's a good workout, but someone doesn't have to take a 90-minute hot yoga class to experience the benefits," he says. "Even if it's just a simple downward dog, upward dog, mild flow type of thing – gaining flexibility is key."
While many things have changed in the 100 years since cigarette cards identified the importance of flexibility, we're still touting the benefits of stretching, including keeping back pain at bay.
"I'm a firm believer in the benefits of yoga," says Alvey. "If I had discovered yoga as a high school wrestler instead of at age 35, it would have made a huge difference."
"We often train to get fast and strong, but we really need to focus on improving flexibility as a preventative strategy to avoid injury," he says.
These recommendations have been excerpted from Coaches Corner, a free monthly webinar series for coaches, athletic directors and athletic trainers. The series, developed and presented by Forté, in partnership with IHSAA, aims to arm coaching and support teams with helpful information to consider when working with their athletes. Subscribe online so you don't miss an episode.
Back pain is common in people of all ages and genders – and especially in young people who play sports.
In fact, back pain is estimated to affect between 37% and 66% of all adolescent athletes. In a recent NCAA poll, one-fourth of all college football players reported a longstanding issue that started before college.
Fortunately, most back pain can be resolved with a proper diagnosis and treatment. To help adolescent and teen athletes recover more quickly and return to their respective sports, Dr. Thurman Alvey, sports medicine specialist at Forté, recommends watching out for the most common red flags of back pain, including:
Pain, weakness, numbness or tingling extending down one or both legs, especially if it makes it hard to walk
Persistent pain, especially if it lasts two or more weeks
Escalating pain, such as going from a two out of 10 on the pain scale to a six out of 10 in a matter of days
Pain that prevents an adolescent or teen from getting adequate rest
"Kids are resilient and tough," says Alvey. "Typically, they can take a little something for pain relief and use a bit of ice, and they're ready to roll the next day. If that's not happening – if they can't sleep at night because of the pain – that should get our attention."
While these are some of the most common signs and symptoms associated with back pain, athletes can also experience fever, sudden weight loss, and bowel or bladder dysfunction.
The presence of any red flags is your cue to consider taking an athlete out of competition. If you're on the fence, Alvey recommends conducting a functional movement screening, a set of exercises that helps identify restrictions and issues by testing all major joints and flexibility.
"If the athlete can't pass a field test, they can't play," he says.
While back pain may come and go, it's important to treat it quickly, whether the goal is to get back in the game or simply back to living a pain-free life.
"Back pain is real," says Alvey. "Fortunately, most of it isn't surgical, but it is very common."
The Forté Fast Orthopedic Care locations are open regularly for walk-in appointments in cases of sports or other sudden injuries that don't show signs of an immediate emergency. For older injuries, including chronic pain or pain following a previous back injury, call the Forté office at 317.817.1200 to schedule a regular appointment.
These recommendations have been excerpted from Coaches Corner, a free monthly webinar series for coaches, athletic directors and athletic trainers. The series, developed and presented by Forté, in partnership with IHSAA, aims to arm coaching and support teams with helpful information to consider when working with their athletes. Subscribe online so you don't miss an episode.
15-year hip and knee specialist Dr. Peter Maiers to serve Colts players, lead medical team
CARMEL, Ind. – The Indianapolis Colts are once again turning to Forté Sports Medicine and Orthopedics, formerly known as Methodist Sports Medicine, to lead the team's sports medicine roster. The Colts have named Forté's Dr. Peter Maiers as the new head team physician. Maiers replaces Forte's Dr. Thomas Klootwyk, who stepped down after 23 years with the team, including five as head team physician.
A fellowship-trained orthopedic and sports medicine surgeon who specializes in the treatment of the hip and knee, Maiers was elevated to the role of head team physician after serving the Colts for twelve years – eight years as a team consultant and four years as a team physician. Maiers also has experience as a team physician for Indiana University football.
"I would like to express my gratitude to Jim Irsay and the entire Irsay family for the opportunity to serve this great franchise by caring for the athletes," said Maiers. "My goal as head team physician is to work with the team of sports medicine and medical specialists to maintain the respect of the players as Dr. Klootwyk has done so well over the years. We want the athletes to know we have their best interests at heart. Keeping them safe and healthy is our priority – now and for the benefit of their long-term health."
Following the promotion of Maiers to head team physician, Dr. Dale Snead joins Dr. Mark Ritter as assistant team physicians. Ritter, who has served the Colts since 2020, is a fellowship-trained orthopedic surgeon specializing in orthopedic sports medicine, trauma, and knee and shoulder injuries. Snead, also a fellowship-trained orthopedic surgeon, specializes in the treatment of shoulders, elbows, forearms and hands. Both surgeons have served athletes for many years at various area high schools and colleges/universities.
Klootwyk will continue to serve the Colts as a team consultant. Also continuing as team consultants are Forté physicians: Dr. Thurman Alvey III, a primary care sports medicine specialist focusing on concussions; Dr. David Porter, a fellowship-trained orthopedic surgeon specializing in foot and ankle injuries; Dr. Lance Rettig, a fellowship-trained orthopedic surgeon specializing in elbow, wrist and hand injuries; and Dr. Stephen Ritter, a fellowship-trained orthopedic surgeon specializing in back and neck injuries.
"Our top priority always is to provide exceptional care for our players, and in Forté, we've found that same level of commitment from our physicians," said Jim Irsay, Colts owner and CEO. "We look forward to continuing our work with Dr. Maiers and the Forté team as they use their world-class skill and experience to enhance the physical and mental health of our athletes."
Fans who are interested in seeing the Colts in action this season can still purchase single-game tickets for regular season games at Lucas Oil Stadium at Colts.com/Tickets or Ticketmaster.com.
More information about Forté Sports Medicine and Orthopedics is available at forteortho.com.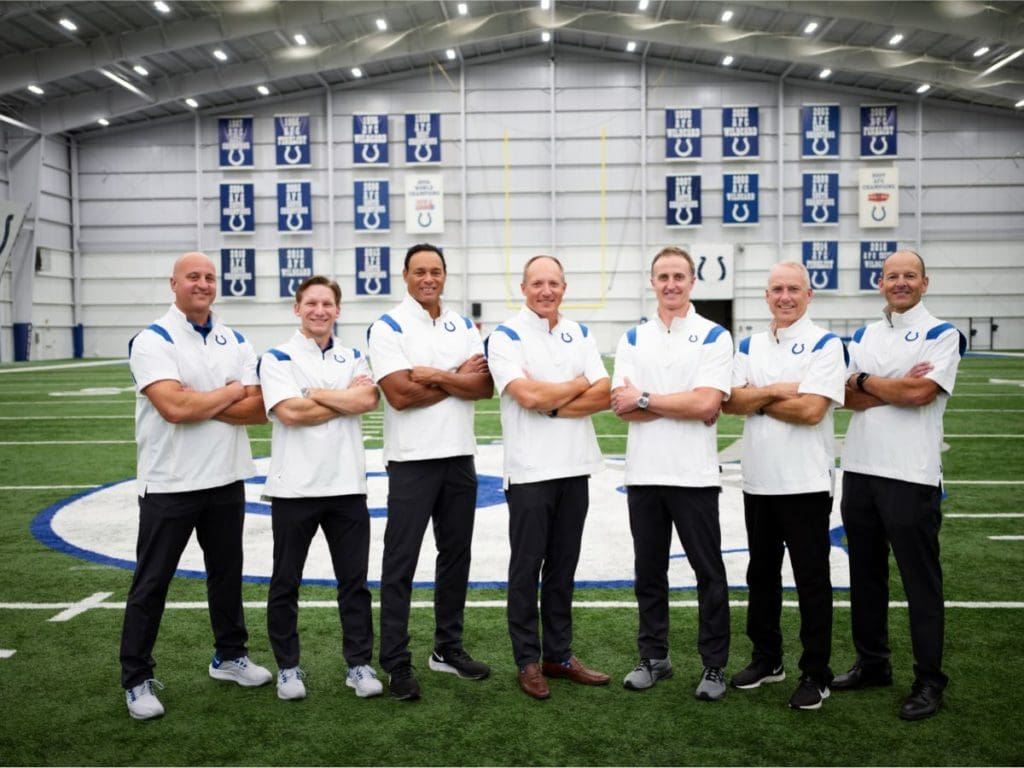 About Forté Sports Medicine and Orthopedics
Forté Sports Medicine and Orthopedics, previously known as Methodist Sports Medicine, is an independent, physician-owned orthopedic practice recognized as one of the region's most respected orthopedic groups. Founded in 1983 as one of the country's original sports medicine practices, Forté's physicians and staff provide comprehensive, specialized sports medicine and orthopedic care to patients of all ages.
Clinical evaluations performed by highly skilled fellowship-trained orthopedic surgeons, combined with advanced surgical techniques and comprehensive non-surgical treatment options, provide patients with exceptional treatment outcomes and a return to active living. Forté provides patients with expert orthopedic care in several sub-specialties, including hand, wrist, elbow and shoulder; foot and ankle; hip and knee; joint replacement and revision; spine care and sports medicine. Forté has been trusted by the Indianapolis Colts as their official team physicians since 1984 and serve as the orthopedic provider for Purdue University, Butler University, Indiana State University and numerous high schools and public safety departments throughout central Indiana.
Forté Sports Medicine and Orthopedics also innovates daily through a separate 501(c)(3), Forté Orthopedic Research Institute, that improves the lives of patients everywhere through advanced clinical research and education.